Giving Back
Supporting and making a difference in our communities by helping those in need through the Jacob Food Box Project
As proud citizens of and community partners in the Holland Marsh, Bradford, West Gwillimbury, Barrie, and along with our neighbouring communities across York Region, Carron Farms is dedicated to helping less fortunate families in our society eat healthy, fresh fruits and vegetables. Providing people in our communities where we live, work, and serve with healthy food to eat is important for many reasons, but most of all, because it's the right thing to do.
In addition to the multitude of perennial charity food drives we are honoured to be active participants of, we donate produce to several local events, and our people give back to our communities by volunteering their time to a number of nonprofit organizations, including: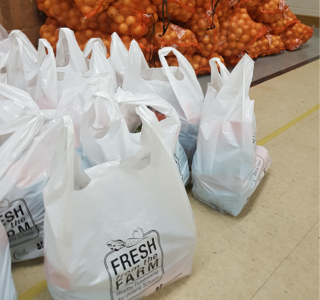 Fresh From the Farm is a Fundraiser for Schools
Carron Farms is excited to be a participant in providing fresh produce in bulk that schools then redistribute. This program teaches kids about the importance of nutrition from fresh produce as well as enabling fun and healthy fundraising by the schools. The program was designed to promote healthy eating, educating children on where their food comes from. In 2016 the program covered over 4000 schools in Ontario.
See more at FreshFromTheFarm.ca
Learn more about the importance of having vegetables and fruit in your diet.